You're upgrading to a new phone and you need to transfer all your data from your old phone to your new one – we can help!
Follow the guidelines below and if you have any questions, please don't hesitate to get in touch with us.
Quick Start – For us with Apple devices
Transfer the SIM card to your new device using the tool provided

Power on both devices

When your old device recognizes that a new iPhone is close by and powered on, it will automatically prompt "Set up New iPhone- use your Apple ID to set up new phone". Hit continue.

A blue animation will appear on your new device and a circular camera on the old one. Hover the old device over the new one so that the blue animation fills the area of the camera hole. You will feel a vibration to indicate that it has completed properly

Complete all steps that are prompted-including applicable passwords and security settings.

If prompted to do so- complete the system software update on your new device

Once the update is complete, you will be given the option to either "Transfer from iPhone" or you will be given options for ICloud backups that you have previously completed.

Keep both phones in range of one another and do not navigate to other screens. Simply leave both devices alone during the transfer. It is highly recommended to keep both devices plugged into a power source during the transfer.

Follow any further prompts that you are given- otherwise, once the transfer is complete and all content is organized, you can start using your device. All content will remain on the previous device as well.
Smart Switch – For use with Samsung and most Android devices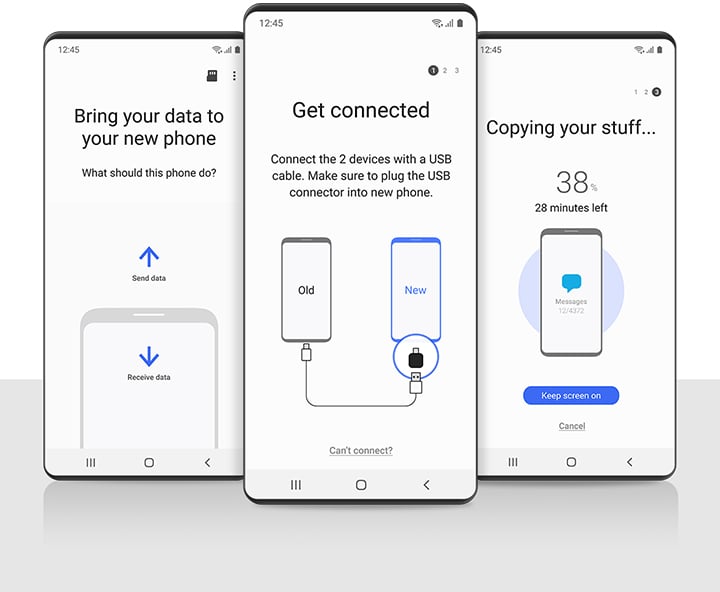 Transfer your SIM card to your new device using the tool included in the box. This MUST be completed first.

Turn on your device, connect to Wifi on both devices, complete all setup steps to set up security, settings and Google account login on the new phone.

Wait for all application and system updates to complete

Once all updates are complete, use your phones search function on both devices to search for "Smart Switch". This is generally pre-installed on all new Samsung devices.

If this is not installed, go to Google Play Store and download Smart Switch

Once the app is installed on both devices, launch the app on both. Ensure the phones are in close range of one another.

On the old device, select "Send" and on the new device select "Receive"

Choose either "Cable" or "Wireless". Your new device should include a USB to USB-C adaptor that you can hook up to your old devices charging cable in order to tether both phones together. This method is faster than wireless transfer.

You will be given a list of all content available to be transferred, as well as an estimated time frame that it will take to transfer. Initiate the transfer and do not operate either device while the transfer completes. If you are transferring via wireless it is a good idea to keep both phones plugged in to a power source.

Complete the transfer, wait for your applications and content to organize and complete installation- and voila! All information will remain on the old device.