Our Priority Is Keeping Our Customers,
Employees And Communities Safe

Learn how we're responding to COVID-19
We're committed to the well-being of our customers and employees. At a time when social distancing plays a critical role in slowing the spread of COVID-19, our digital and support services are ready to help when you need it most.
Because you're at the heart of what we do, we're working hard to understand how to best serve you during these unpredictable times. As long as COVID-19 continues to affect our communities, we'll keep this page updated with our latest efforts to support our customers and our community.
We're here for you when you need us most. For many, your phone is your lifeline, whether that's to communicate with your family, contact emergency services, to book appointments and to stay connected. There are many customers that require specialty batteries whether it be for hearing aids, a thermometer, or a cordless phone. We are committed to be here for you.
So you can stay safe, we've made it easy to shop from home and get the services you need online. All orders on boltmobile.ca will get free shipping and waived activation fees when upgrading to a new phone.
We are also offering "Curbside Pickup" at all four locations in Saskatoon if that works best for you. Place your order online and we will arrange for you to pick it up at the store of your choice, without leaving your vehicle.
We've temporarily changed our store hours, check our store locations for up-to-date information on store hours and closures.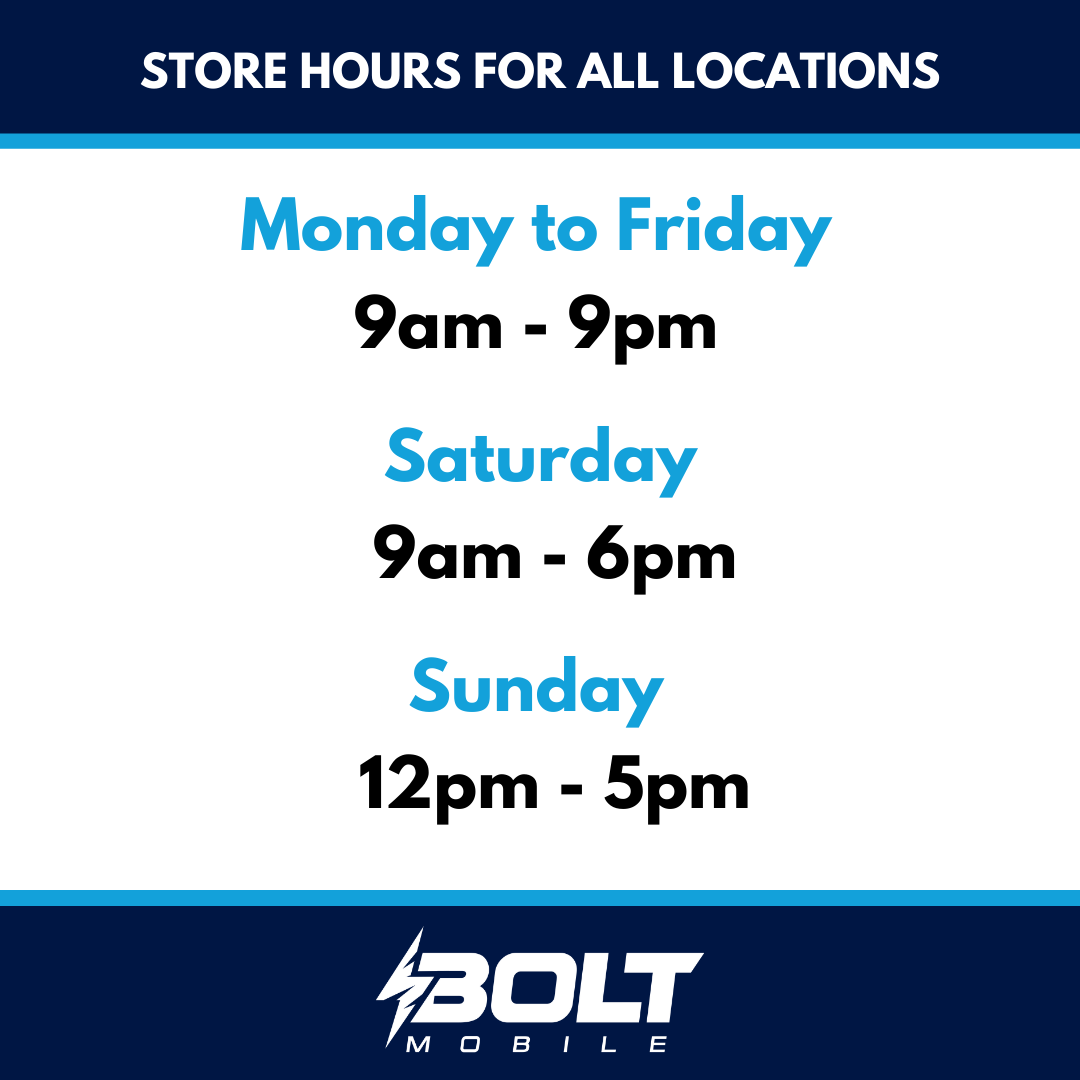 We're committed to ensuring our customers have access to the communication services they need.
Unlimited Internet
All SaskTel internet plans are already unlimited with no overage charges so customers can access the internet as much as they need.
Data Overage Charges Waived
To continue helping those working and studying from home, SaskTel extended the waiving of data overage charges to May 31, 2020. There will be no data overage charges on postpaid wireless, noSTRINGS Prepaid, or fusion Internet plans from March 17 to April 30, 2020.
Complimentary TV channels
To help keep our customers informed and their families entertained, SaskTel is providing residential maxTV and maxTV Stream customers with complimentary access to over 50 news and entertainment channels, including CTV News Channel, CBC News Network, LCN, Family, Family Jr., Family CHRGD, Disney Channel, Teletoon, Treehouse, and much more. See the full list.
As we navigate through these unprecedented circumstances, we have implemented a number of safety measures to keep everyone safe. Enhanced sanitation practices are currently being exercised at Bolt-Mobile to ensure a clean environment during the COVID-19 outbreak.
Please be advised all customers will be asked to sanitize and disinfect their phone upon entry to a Bolt Mobile store. All staff will be maintaining a safe social distance of at least 2 metres for all interactions.
To ensure the cleanliness of our physical stores, we are:
Disinfecting sales counters regularly
Disinfecting display devices regularly
Disinfecting high traffic and high contact areas such as door handles and work stations regularly
We are using disinfectant approved by Health Canada for use to prevent COVID-19.
Frequently Asked Questions
At Bolt Mobile, we are doing everything we can to slow the spread of COVID-19. Our priority is keeping our customers, employees and communities safe. Right now, it is critical to reduce contact and increase social distancing so fortunately, our excellent digital and support services are our best ways to help our customers and employees achieve this.
Bolt Mobile will be following guidance from public health authorities. This includes Health Canada, The Centers for Disease Control and Prevention (CDC) and the World Health Organization (WHO).
Employee and customer safety are our top concerns. Stores will regularly wipe down surfaces commonly touched by employees and customers – door handles, countertops, demo devices etc. There is signage throughout the store, requesting that customers do not touch any product as well. Upon entering the store, you will be required to sanitize your hands and clean your device. We also have set limitations on the number of people allowed in the store at any given time. 
We're here for you when you need us most. We have modified our store hours at all 4 locations to best serve you while keeping everyone safe. For all our store hours, please click here.
Boltmobile.ca is the most effective way for our customers to explore our products, make purchases and get the service they need from the safety of their home.
Effective immediately, boltmobile.ca will exclusively feature all our best deals with waived activation and upgrade fees and free next-day shipping, meaning there is no reason customers will need to visit a store.
Yes! You can call into any one of our four locations in Saskatoon and we will make the arrangements for you. When you arrive, you will give us a call and we will bring out your order so you don't even have to get out of your vehicle. Now that's service! 
Alternatively, you can shop online and if you prefer to pick up your purchase instead of us shipping it out to you, we will make arrangements so that when you arrive, we will have your order brought out to your vehicle.
Unfortunately, no. That being said, we do provide you with an easy-to-follow guide to change out your SIM card, transfer all your data, and setup your email. If you have any questions along the way, we're here for you. 
You can view your billing information and options, usage and your upgrade eligibility via your mySaskTel account sasktel.com or by accessing the mySaskTel app from your device.
You can use the free Bolt Mobile app and access the "Ask An Expert" feature or call one of our four stores in Saskatoon and speak with one of our wireless experts.
You bet! Data overage charges are waived from March 17th to 31st, 2020. SaskTel will be automatically waiving all data overage charges for wireless (postpaid and prepaid) and fusion Internet customers to ensure those working and studying from home and remotely can use as much data as they need. (Customers on unlimited wireless rate plans and unlimited fusion Internet plans will still have data usage limits.)
The option with the Mobile Hotspot varies by device manufacturer. Here is a resource provided by SaskTel.
Smartphones are considered a high-touch surface. Review the CDC's recommendations for cleaning "high-touch" surfaces.